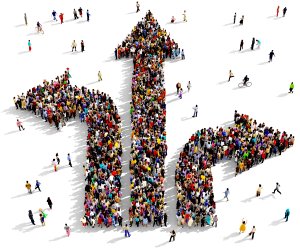 The all-new Tracker GovSpend Report is finally here, and if you're in the market to win more public sector contracts, this is the one for you.
Awash with meticulously analysed public sector spend data and aligned with market leading insight, GovSpend provides the 'need-to-knows' on three key areas:
Market opportunity – 'the money making' sectors where the best growth potential exists
Public sector trends – a view to the overall changes currently impacting government spending
Buying activity – key information on the most active government bodies and how much they're spending
Why we have developed GovSpend
During the first quarter of 2022 activity in terms of public sector spending rose in a particularly promising fashion, with contract and award values significantly up year-on-year – this growth demonstrates indicators of a healthy, growing market.
Some areas of the public sector are experiencing stronger growth than others – so much is clear from the GovSpend data. Central Government, Local Government, and Education are three parts of the public sector where we've seen particularly strong activity when it comes to contracting. Opportunities within the health sector remain, with the focus shifting from a COVID-19 response to a reduction in waiting times and backlog issues.
While the impacts of Brexit and COVID-19 is causing problems within the supply chain. It has actually created more opportunities for businesses of all sizes, offering them a chance to both demonstrate how they can make a positive difference and support buyers during a challenging period and beyond.
Having worked within the public sector for more than 38 years, the team here at Tracker recognise that the public sector marketplace can be somewhat sophisticated and complex, therefore, we established GovSpend to ensure that essential information is easily understandable and digestible for suppliers.
A brief analysis of the public sector marketplace in Q1
As mentioned above, the GovSpend report will look to provide an analysis of the trends that have resulted in the state of the marketplace during each quarter and so, in this, the teaser, if you will, we'll quickly touch upon those during Q1:
COVID-19 remained a disruptive influence in Q1 – while the vast majority of restrictions had been lifted by the time we reached the beginning of this year, the impacts of the pandemic were still being felt across every part of the public sector
Record inflation rates and rising energy prices affecting buyers – wholesale energy prices boomed
In response to both of these causes, the GovSpend report accurately details the opportunities they present, putting you, as a supplier, in the best possible place.
If you want to find out more about what GovSpend entails, get crucial information and analysing on spend, trends, and insights into the public sector marketplace, download the all-new Tracker GovSpend report here.