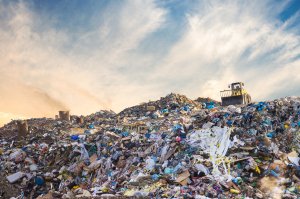 It is estimated that UK businesses are responsible for the generation of 27.5 million tonnes of commercial waste and 13.6 million tonnes of industrial waste every year – an alarming total of 41.1 million tonnes.
There's no denying that processing business waste can result in significant costs. Looking after your waste is particularly important, despite the fact it might take a back seat when profitability, growth, and business survival come into play.
That said, poor waste management can not only impact your business' reputation, but it can also have a considerable impact on your business' ability to win public sector contracts, grow and attract top-tier talent.
In this article, we want to take a look at the importance of managing your waste stream and why failing to do so can have catastrophic consequences.
Fly-tipping
Fly-tipping is an ever-growing problem here in the UK. Using Google Search data, we've been able to identify that searches for the keyword phrase 'fly tipping' have increased by 50% in the past three months, suggesting that people are either keen to discover more about the rise in fly-tipping or they are questioning the legality of their actions when it comes to disposing of their waste – either way, it's not a positive sign!
During the 2020–2021 financial year, local authorities in England dealt with 1.13m fly-tipping incidents, up 16% year on year. The cost to local authorities of clearing these fly-tipping incidents was £11.6 million.
Businesses have, in many instances, been at fault for fly-tipping – but resorting to this method of waste disposal could have catastrophic impacts for your business.
Waste streams
Waste streams can be loosely grouped into two main categories – materials-related streams and product-related streams. The first includes metals, glass, paper, and so forth while product-related streams, alternatively, include everything from packaging to electronic waste, vehicle scrappage, and construction refuge.
Waste is everyone's problem. We all have a responsibility to make sure it's disposed of correctly and managed both appropriately and effectively.
Veolia, a leading waste management organisation in the UK, conducted a survey through YouGov in March which detailed that 77 per cent of British retail and manufacturing were still unaware of the impending Plastic Packaging Tax.
The tax, highlighting the significant costs associated with poor waste management, places a £200 per tonne levy on producers or importers of plastic packaging if they don't include recycled content.
Gavin Graveson, Veolia Northern Europe Zone Senior Executive Vice President, noted that: "The UK could save up to 2.89 million tonnes of carbon emissions every year if all plastic packaging included 30% recycled content.
IMD, meanwhile, reiterated the message projected at COP26 of: "align your business strategy to sustainability targets and reap monetary rewards."
Research by Accenture, similarly, detailed how: "companies with high ratings for ESG performance enjoyed average operating margins 3.7 times higher than those of lower ESG performers."
Every business wants to make money, and if the research from Accenture is anything to go by, choosing the greener option results in more green shoots when it comes to profits.
Why it matters
COP26, which saw representatives from more than 200 nations meet in Glasgow in November 2021, concluded with a number of landmark decisions and agreements, one of which was reducing global greenhouse gas emissions by 45 per cent by 2030.
Businesses have since committed their own efforts to help achieve net zero, including beauty brand LUSH Cosmetics which has introduced the "Bring it Back" campaign, allowing customers to return used containers in exchange for new ones.
An independent study commissioned by SmallestEnergy has revealed that 4 out of 5 consumers are likely to choose a brand with a positive approach to environmental sustainability. However, 45 per cent of consumers claim to be unaware of practices which brands have adopted in regard to environmental sustainability. The second statement highlights a need for businesses to promote and publicise their actions and efforts, without falling foul of misinformation and greenwashing.
Consumers want to do more but they want you, as the business, to make the first move. 64 per cent of consumers want brands to reduce their packaging, 30 per cent want additional information on how to recycle, and 46 per cent want clarity on the sourcing of materials for products.
How expensive is organising my waste stream?
A guide from Expert Market highlights just how much you can expect to spend when organising your waste stream in-house. Their calculations detail that bin hire can cost £40-140 annually, landfill costs are approximately £96 per tonne, and a waste transfer licence can set you back around £150 depending on your requirements.
Of course, there are a wide variety of things which will impact the cost of commercial waste handling.
These include:
The type of waste – is it hazardous, recyclable, or general waste?
The location of your business – if you're based in London or an area which has a low emission zone, you'll need to take into consideration congestion charges.
The amount of waste your business produces
Employing a waste management company can be the perfect solution to driving down the cost of waste disposal. They can successfully take care of the entire process for you! According to recent government statistics, there are more than 3,000 waste management companies in the UK, meaning you won't struggle for an appropriate, efficient provider.
Getting a solution in place will improve your reputation, increase your profitability, and position your business better – it really is a no brainer!
Sign up for your free Tracker Intelligence trial today to find government tenders and learn how to write a bid response that wins every time.