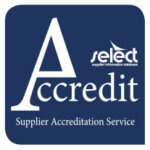 We're here to help you win with our recognised public sector pre-qualification accreditation service – Select Accredit.
In order that buyers meet all their regulatory and social responsibilities, the ability to demonstrate compliance is increasingly important for suppliers.
This accreditation demonstrates your company's strengths and fitness to do business with the public sector.
It is a cost-effective and simple to use service that will give you a competitive advantage over other suppliers in your market.
It is so simple to get Select Accredit. To take advantage of a discount of up to 20%, simply fill in your details and we'll be in touch shortly.